We thought you'd enjoy meeting some of our many satisfied customers. Their stories are all true and in their own words. You too can join our long list of clients and be world-famous. Simply purchase your next guitar or bass from us, send us your photo and story, and you're in. What an inexpensive way to gain fame and notoriety!
Our head technician is Jeff Babicz, who was employed at the original Steinberger factory in Newburgh, NY for over 10 years and worked his way up through the ranks to become the senior production manager at the factory. For more info on Jeff's work at Steinberger Sound please click
HERE
.
From the very first moment that I saw a picture of a Steinberger bass as a teenager back in the early 1980's, I absolutely loved the appearence of it and I knew that I wanted to own one. The real problem was that they were very expensive and very few people could afford one at that time, including me.

When I was 17, I got a job in a music shop for awhile, so I was able to borrow a black unlined Steinberger fretless XL2 bass to use on a couple of gigs, and I was blown away by the sound, as was everyone else in the band. But I still couldn't afford one.

In 1986, while I was traveling in California, I traded in a Trace Elliot speaker cabinet that I'd brought with me from England, towards my first Steinberger bass, which was a black "narrow" five string XL25. I wasn't looking for a five string, but I simply had to own a Steinberger bass.

I kept and used this bass until 1989, when I sold it, which was just after I had moved to London. As much as I loved the instrument, I was never 100% happy with the narrow 5-string spacing, especially since I have very large hands.

I then joined Jools Holland's band in 1991, which I am still a member of to this day. It wasn't long after joining Jools that I got seriously interested in collecting basses as well as playing them. However, I was less interested in the "obvious" collectible basses like vintage Fenders. I was drawn to the more unusual, quirky, and exotic examples of bass design that have been produced in the relatively short history of the electric bass.
I knew that I wanted to get another Steinberger bass, and I wanted a four-string this time, but where could I find one? I started to look on ebay, but I was always disappointed by the poor condition that so many of them seemed to be in. Eventually I bought one from a music shop in Texas, a black fretted XL2A. It was in great shape and I was pleased to finally own a playable Steinberger 4-string bass!

As they say, once a collector, always a collector, so even though I had this great bass, I still couldn't resist looking for other examples of these amazing instruments. The only place where I knew to look was still on ebay, and even though there was never really a shortage of Steinberger basses being listed, I was never tempted to buy another, mainly because the condition of the ones listed was never good enough...that was until I made contact with Don Greenwald of HEADLESS USA.

Through our multiple e-mails and telephone calls, Don convinced me that he had an absolutely immaculate and pristine black fretted XL2 bass that "had my name on it". I told him that I felt a little decadent owning two of the same model bass, but that was when Don (being the expert) told me that the one that I already owned had the HAZ active EQ circuit, so there actually was a difference between the two. Most importantly, I was intrigued to see how much better the condition of Don's was to the one that I already owned.

I need to add at this point that all of Don's communications were first class. He answered every single e-mail promptly and every question thoroughly. I just couldn't believe the level of his knowledge and expertise regarding these instruments! It was the best education that I've ever had. I ordered the bass, the transaction went swimmingly, and I waited with eager anticipation.

"Bullet proof" is a description Don uses for his packaging and he's not joking! I've never seen a better packed and protected musical instrument before. It's one of the few occasions that I've felt sorry for the Customs folks at the airport. The thought of them having to open up that box and all the packaging to get to the instrument...forget it!

I need to mention something about myself at this point. I am EXTREMELY & EXCEPTIONALLY fussy when it comes to the condition and authenticity of my musical instruments, so when I took my new bass out of the gig bag, I was ready to go over it inch by inch with a fine tooth comb looking for flaws. I couldn't find any, not a single one...!! This bass looked liked it had come straight from the factory floor. I just couldn't believe my eyes. It was exactly as Don had described it. In fact it was better! It made
the one that I already had (which I had thought was in excellent condition) look very average. I was elated! I was amazed that anyone could be even fussier than me and even more conscientious.

I must also mention here the superlative skill of Jeff Babicz in the setting up and adjustments of this bass. Don had told me that Jeff was the former head of production, fretting, and quality control at the original Steinberger factory in Newburgh, N.Y., and that Jeff does the repairs, restorations, and set ups on the guitars and basses that are sold through HEADLESS USA. Not only did this instill great confidence in me, but it was a real honor knowing that the MAIN MAN who was at the heart of the Steinberger company had set up my bass so beautifully. Both Jeff & Don are totally fastidious when it comes to these guitars. I take my hat off to them both!

After this wonderful experience, I realized there was no way I could let my Steinberger collection remain at only two! I then asked Don what other rare and delightful gems he might have available for sale. He very kindly went to a great deal of trouble (I'm sure) in e-mailing me lots of high quality photos of other basses that he thought that I might be interested in, with informative descriptions. As soon as I saw the incredibly rare white unlined fretless four string XL2, I knew that I had to have it. We agreed on a price and the process began once again. Everything went like clockwork, just as as before, and when I received my new bass, I was again overwhelmed at how perfect it was. I would have no hesitation whatsoever in describing it as "mint" I just don't know how Don manages to find these stunning instruments in such fantastic condition, but he does!

I have been dealing with lots of companies, supplying all sorts of instruments, equipment, and accessories for many years now, and I can honestly say that dealing with Don (and Jeff) at HEADLESS USA has been the most pleasurable, educational, and rewarding of them all! Their quality of service before, during, and after each sale is second to none.

To Don & Jeff, I can't thank you enough for supplying me with these two gorgeous basses. I couldn't possibly be any happier!
Keep up the splendid work, good luck with the new website, and please keep me posted on all of your new arrivals. You know that I won't be able to resist...

All the best,
Dave Swift
England

Dave Swift has played with hundreds of the world's biggest names in music including Paul McCartney, George Benson, Eric Clapton, BB King, Sting, and hundreds of others.
I finally got a chance to plug in the bass just through my Marshall amp for giggles…

No Bass has ever sounded this good through the 100 watt...just plain WOW.

Between you and Jeff, fantastic work my friend.

Thrilled!

Tod Howarth
USA


The gallery attached displays only a few of the MANY Steinbergers Tod has acquired from us. The blue, green, and orange Steinbergers are custom guitars made specially for Tod, one of our most loyal clients. His favorite model is the GM1TA. We are so proud to create such beauties for him!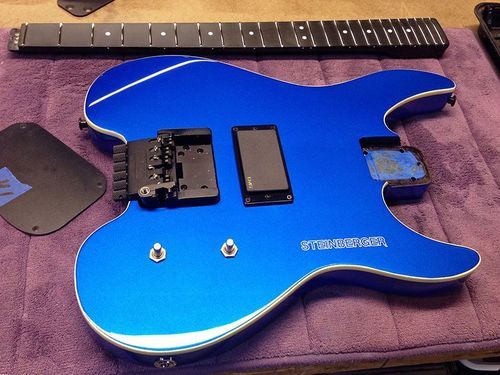 click on any thumbnail to view a larger image...
Hi Don,

Who would have thought that my dream of owning a Steinberger L2 bass would one day come to be a reality? After playing Rickenbacker 4001's for almost thirty years, the invention of the headless bass had me fascinated right from the start. What can this all mean? I must find out for myself.

I remember the moment that I took delivery of the beautifully done package across my doorstep, and then eagerly tearing away the wrapping to reveal a wonderful Steinberger L2! One thing for sure, it was just as you had described; a dream to play, with a sound that is just out of this world!

To anyone thinking of joining the headless community, Don has a brilliant system to offer his customers. In my instance, I was offered a price range featuring three Steinberger L2 bass guitars, the most expensive being the nicest condition of the three.
A few days later, Don sent me a set of good quality photographs of the three bass guitars in question, complete with serial numbers and a short service history of each. This was great, as it allowed me to study their condition and make my choice of which one to buy in my own time.

Once payment was made, Don contacted me on receipt of the funds and gave me full shipping details with a projected delivery date to me here in the United Kingdom.

A quick mention of Don and his correspondence is worthy here. Every time I fired a question at Don by email, he responded quickly without once keeping me waiting. My questions were answered fully and in satisfying detail; leaving me with no uncertainties whatsoever. Don's punctual responses actually had a type of military feel to them – no wait and no nonsense.

I found Don's description of the bass to be absolutely precise in all respects. His technical knowledge is also excellent, and he will advise you should you need any help.

I know Don has an amazing collection of guitars as well as basses for sale, so he can cater to both four and six string Steinberger enthusiasts alike.

What's the Steinberger L2 like to play? A revolution! Feel, sound, playability, amazing design innovation, simplicity, and superb tonal and bass responses are to name but a few of the well known characteristics.I still can't believe this L2 bass belongs to me, and all possible thanks to Don and his collection of these amazing guitars he's offering for sale.

Thanks again Don for making my whole year. My sincere thanks to you again, and the very best of luck in the future.

Kind regards,
Jonathan
England
It was many years ago, when I first heard about Don Greenwald. It was right after I had tried to buy a white Steinberger GL4T on eBay. The guitar was located in Hawaii, and it was in practically new condition. The price was already quite high , but one minute before the end of the auction I decided to put an even higher bid on it, telling myself that nobody else could possibly pay any more than I would. Everything was fine except that four seconds before the end of the auction, a higher bid was made and it was already too late for me to bid again. I understood that day that these guitars were becoming very, very sought after…....

The next day, I received an e-mail from a fraudulent internet hacker telling me that the winning bid had been cancelled, and that the guitar was again available for sale to me at my last bidded price, so I e-mailed the "real" seller and he confirmed that the guitar was, in fact, truly sold. The buyer was actually..Don Greenwald. A few days later I received an email from Don which began like this:

"Dear Maurice,

My name is Don Greenwald and I am an avid collector of Steinberger guitars and basses. I have acquired a nice collection of these instruments. I live in Poughkeepsie, N.Y. which is about 20 miles from Newburgh, N.Y., which is where most of the Steinbergers were manufactured. I owned a retail music store here for about 20 years and I was an authorized Steinberger dealer. I used to visit the factory on a regular basis, either to bring artists in to meet with Ned Steinberger or just to watch the factory operations. I have actually been involved in the guitar business for over 35 years. My first guitar job was working for a small shop in Red Bank, N.J. in the early 1970's, which was called 'Guitar Trader'. This was one of the earliest vintage guitar shops in the USA."

I answered Don that I would really like to get another white GL4T, since I couldn't get the one that was on eBay, and Don was actually able to find me a very beautiful one. So I then began to purchase a few more Steinberger guitars, and added this brand to my guitar collection. A year later when I was visiting in NYC, I met with Don for lunch at the Carnegie Deli, where we talked a lot about guitars and Steinbergers.

Everytime I have an unusual or difficult question about Steinbergers, I ask Don, who always has the right answers. Now that I have a few more Steinbergers, I really do love these great guitars.

A few months ago Don called me and proposed to me to be involved in the acquistion of two GL2 hardtails in NOS condition and still in the original Steinberger shipping cartons! I told him that: "I am in", as I knew he had already obtained one like this, and these two were from the same source. It was a "once in a lifetime opportunity" to get a GL2 hardtail in new condition, so I could not pass it up.

Don is a real professional. His descriptions of his instruments are accurate, and all of the aspects of his guitars are reviewed and nothing is forgotten. He is one of the few who knows the real value of the word "mint". He is a great person and a good friend.

Maurice
France
Don,

After almost a year of eBay and Google searches for the elusive Newburgh-era white Steinberger XM2 bass with black binding, I finally threw my hands in the air and braved the spammy waters of craigslist where I posted a "wanted to buy" ad. A day later, I received an email from Don saying, "Give me a call! I think I have what you're looking for!" The rest is history.

I would soon have my prized white XM2 in hand. And wow, what a specimen! To say "minty" would be an understatement. "Pristine" comes a little bit closer. With the addition of some LaBella Tapewound Flats, I was in heaven! What a truly remarkable instrument!

This didn't come off without a small snag, however, and I'm not afraid to admit that this 20+ year old instrument had a minor issue upon receipt. With that being said, it is not the problem that defines a vendor...it is how a vendor RECTIFIES a problem that truly matters. Don was extremely concerned (even a little embarrassed) and anxious to make things absolutely correct for me. I immediately shipped the bass back to him and received her back 3 days later in PERFECT working condition. I couldn't be happier with the level of customer service that I received. Kudos to Don and Jeff Babicz for taking such caring, fast, and professional action!.
Since my first contact with Don, we have had many more colorful conversations, and even though we have never met face to face, I do consider him a friend. Keep up the outstanding work Don, and good luck with Headless USA! The site looks fantastic!

Paul Pelletier
Boston, USA
I have known Don Greenwald since 1980 when he owned Rainbow Music in Poughkeepsie New York, and I was a college student. I bought several vintage Fender guitars and amps from him.

In 1983, when Steinberger released their guitar, Don called me and said that one of his employees was using the guitar. He said that it was amazing, that Ned Steinberger was a genius, and that I should try one. He was right. I bought my first Steinberger guitar a few months later.

Don also made an appointment for the two of us to visit the factory. I met Ned Steinberger and Jeff Babicz, and they invited me to pick out an instrument to purchase. That was the first of several factory trips over the years. Don was my liaison, and he helped me get what I needed from Steinberger, even when that meant producing instruments that they did not officially offer. Now that's customer service!!

Between 1984 and 1993, I bought four Steinberger guitars from Don including my first double-neck Steinberger.

He knows the instruments, and really makes an effort with all of the details, from the guitar itself, to a fair and honest transaction.

It's great to have a single place to go for information, parts, and specialized service.

Best of luck Donny!!

Steve Hayden
USA
Growing up in the 80's and watching video's on MTV ...Seeing these cool "Space Age" Looking guitars...always made me curious about Steinbergers, and after seeing and hearing Eddie Van Halen playing a GL, that was it !! That got me totally hooked on buying my own GL someday.

Years ago I would find myself in a "Steinberger" phase where I would try to find one, but I would always hit a dead end with old expired web pages and forums, old phone numbers...and when I did see one on ebay I would never buy it because I didn't know enough about them, the condition looked bad, and I didn't know what a good price for a GL was? When I purchase guitars, I like to see all the models available, all the options, all the specs before I buy anything...More time passed and I found myself in another Steinberger phase and I just had to buy one this time...I went online and dug deeper then ever before...thats when I found Don at HeadlessUSA.

Don has a Great website that answered all of my general questions...and it got me prepared to ask a few detailed questions to get the ball rolling for my 1st phone call with Don.

During my 1st phone call with him I knew instantly that I would buy a Steinberger from him. He is full of passion about these guitars, and will talk with you in great length about them! All I knew before the call was that I wanted a GL model of some sort, and after a few more phone calls and emails I decided on a GL7TA.

Don answered all of my questions with great detail and length , and he explained all of the little features and subtle differences in all the GL7TA's he had in stock. He sent detailed photos of 4 of them...complete with full specs - differences in features - condition (from Near Mint to Mint) - and prices. That allowed me to make a solid 100% decision on the exact one I wanted to buy.

Before Don ships your guitar, he explains how it will be fully cleaned, polished, and Set-Up by Jeff Babicz...Jeff used to work at the Original Steinberger factory and is a Leading Expert in the world of Steinbergers, he is the one who Set-Up Eddie Van Halen's " 5150 " Steinberger !!

I can't get over the Quality and Playability of these guitars (I never played, or held a Steinberger before I bought mine) ...They Feel Great...Sound Amazing...and are a Sheer Joy to Play!!

I will Most Likely purchase another GL from my Friend Don...

Thanks Don!!

J. Buzz Villas Mantua
New Jersey, USA